Mozart's Requiem
—Orfeó Català
Description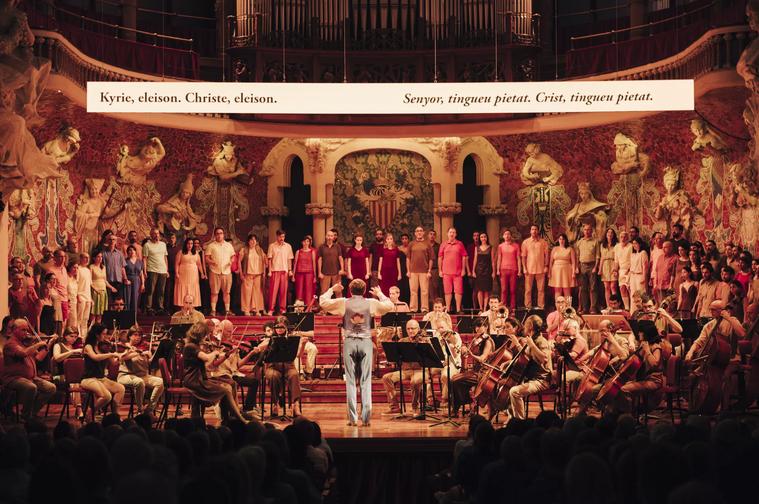 Performers
Irene Mas, soprano
Tànit Bono, mezzo
Matthew Thomson, tenor
Ferran Albrich, baritone
Orfeó Català
Orquestra Simfònica del Vallès
Pablo Larraz, conductor
Pere Faura, stage direction and texts
Guillem Mont de Palol, choreographic advisor
Jorge Dutor,  costume and prop design
CUBE.bz, lighting and space design
Custom project, video screen
Joan Escofet, video technician
Neus Faura, translation of the texts in latin
Sandra Casals, La Diürna
Program
W. A. Mozart: Requiem in D minor, K. 626
Details
The Orfeó Català once again presents the daring and successful version of Mozart's Requiem, with the Orquestra Simfònica del Vallès, musical direction by Pablo Larraz and stage direction and texts by Pere Faura.
This concert is a revival of the production that premiered last July 15 at the Palau de la Música Catalana within the framework of the Festival Grec de Barcelona; a joint co-production, and with the Vallesana orchestra, which meant for the Orfeón Catalán an opportunity to "go on stage" with dramaturgy and costumes designed for the occasion.
After the success and impact on the public and also on the Orfeó Catalán, the Palace will again offer this unique production of the last work that Mozart composed and of which the Orfeó Català is a great connoisseur. The choir will perform it without score, moving around the stage acting and singing in a theatrical format and in a register different from the conventional concert. A version that includes choreographies, videoprojectats texts, costumes specifically designed and special lighting that help "resignify and broaden this wonderful score to turn it into the script of a much more theatrical experience, almost operatic", in the words of Pere Faura.
The solo vocal parts will be performed by the soprano Mireia Tarragó, the mezzo-soprano Tànit Bono, the tenor Matthew Thomson and the baritone Ferran Albrich.
Special offer
Guided tour (6:45 pm) + Concert (8 pm)
Enjoy a tour to discover the history and construction of the only modernist World Heritage Hall by UNESCO (6:45 pm), and a concert (8 pm)
Please note that you must bring your own headphones for the audio guide.
IMPORTANT: the visit wil be terminated at 7:30 pm, when public should go to their seats to enjoy the concert.
Special price from € 23.