Sant Esteve Concert
—Orfeó Català Choirs & Cor de Cambra del Palau
Description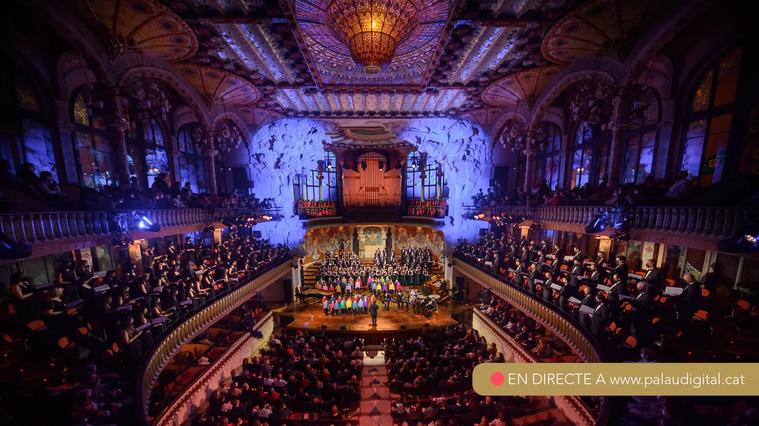 Performers
Orfeó Català (Pablo Larraz, director; Montse Meneses, Deputy Director)
Cor de Cambra del Palau de la Música Catalana (Xavier Puig, director)
Cor Jove de l'Orfeó Català (Pablo Larraz and Oriol Castanyer, co-directors)
Cor de Noies de l'Orfeó Català (Buia Reixach i Feixes, conductor)
Cor Infantil de l'Orfeó Català (Glòria Coma i Pedrals, conductor)
Cor Mitjans de l'Orfeó Català (Glòria Fernàndez, conductor)
Cor Petits de l'Orfeó Català (Mercè Pi, conductor)

Directors of choirs, artistic direction
Adrià Aubert i Blanch, stage director
Anna Romaní, choreographies
Program
Tradicional Concert of Sant Esteve
Details
Acquiring a seat for the most emblematic concert of the Palau season is quite a privilege. With the Orfeó Català, Cor de Cambra del Palau and the Choirs of the Choral School, we will travel from the most rooted carols to contemporary views on choral singing, the true founding seed of the Orfeó and the Palau. A concert that has been held every December 26 for more than a hundred years and has only had four stops due to important historical moments, such as the Civil War or the great snowfall of 1962. With the theme "Making a way" we will meet with the family choir in an explosive celebration of music and tradition.
The Boxing Day Concert is a true highlight among Christmas concerts in Europe, even surpassing the Vienna New Year's Concert in longevity. The concert has been held every 26 December in the Palau for over one hundred years, and has only stopped four times for historical reasons, such as the Civil War and the great snowfall of 1962. 
A meeting point for all the choirs in the Orfeó Català and Cor de Cambra at the Palau, the concert is a testament to Catalan music, the spirit of celebration and getting together at Christmastime, and to the Palau itself as a material and immaterial symbol of a country that loves culture and celebrates it through choral song, the true driver behind the Orfeó Català. 
An afternoon in which you can enjoy an exquisite selection of traditional songs, new works composed specially for the occasion, and festive performances by artists that make the traditional Boxing Day Concert a musical feast and delight for the senses.